Sustainability - Materials and the Environment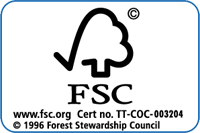 FSC Certification
FSC chain of custody (CoC) allows credible tracking of FSC material from the forest, through all successive stages of the production process, to committed retailers and consumers. CoC certification is for operations that manufacture, process or trade in timber or non-timber forest products such as paperboard.
CoC certification requires operations to identify the origin of raw materials used in FSC certified products and to keep FSC certified products separate from other products throughout the production process. Only operations with FSC CoC certificate are allowed to label products with the FSC trademarks.
The FSC label provides the link between responsible production and consumption hat enables the consumer to make socially and environmentally responsible purchasing decisions.
EarthFirst PLA Film made from plants IngeoTM (DIN CERTCO 7H0014)
The windows film used in our biodegradable products is made from Polylactic acid (PLA), a full bio-compostable alternative to plastic. PLA is derived from corn, a 100% renewable resource.
The PLA Life Cycle:
Plants are harvested
Plants are fermented into dextrose
Dextrose is catalyzed into the PLA polymer: IngeoTM polymer
Products are composted in an industrial facility
Compost is used to grow more plants
Our Products
Lightweight, versatile, stackable
Convenient tuck top closure, no equipment needed
Natural packaging
100% biodegradable, compostable, disposable, recyclable, sustainable and eco friendly
Sustainable Solutions
When you buy a paperboard package that began its journey as a tree from a certified managed forest, once you've recycled that box you can be sure you have taken a small but definite step toward making the world a better place for the generations to follow. Not only is a tree a renewable resource, but the more we plant, the more carbon dioxide is removed from the atmosphere. And we plant at least three times more trees than we harvest.