Automatic Equipment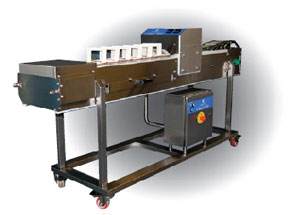 The FP-2000 sealing machine system is designed specifically for larger delicatessen sandwich manufacturers. The FP-2000 sealing machine is built to seal "lid attached" cardboard sandwich wedges, in formed ST15 or erectable ST23 sizes. This efficient sealer and conveyor enables operators to quickly and effectively use within your production environment. It can be permanently placed or easily wheeled to a single phase domestic 240 volt socket and clean air supply, up to 9 CFM. The FP-2000 is simple to load and unload and operators can be in production within a few minutes. Change over to other size sandwich products with adjustable tooling for two size packs 68/56 and 77/65.
The FP-2000 machine has simple efficient base tools that can be easily removed and for wash down and change over for other size products.
TECHNICAL DETAILS
Automatic sealing operation
Easy clean down
Weight: 331 lbs.
Power: 240 volt
Footprint: 23 5/8" x 87 3/64"
Sealing Capacity: 9 1/2" x 8 7/8"
Seals PE and PLA (bio) windows
Seals recyclable and biodegradable materials
Discharge exit of sealed packs onto customer's conveyor or lazy susan
Manual loading of sandwich packs into tooling pockets
Left to right operation (alternative right to left operation also available)
Longer length conveyors available
Production speed up to 20 packs per minute, with options available to increase production speed up to 35 packs per minute
Suitable for ST15, ST23
Our Products
Lightweight, versatile, stackable
Convenient tuck top closure, no equipment needed
Natural packaging
100% biodegradable, compostable, disposable, recyclable, sustainable and eco friendly
Sustainable Solutions
When you buy a paperboard package that began its journey as a tree from a certified managed forest, once you've recycled that box you can be sure you have taken a small but definite step toward making the world a better place for the generations to follow. Not only is a tree a renewable resource, but the more we plant, the more carbon dioxide is removed from the atmosphere. And we plant at least three times more trees than we harvest.